For me personally, selecting the beef that I need to grill is easy… I have an enormous selection of the top cuts of meats to select from, and own a beef market. Is deciding what sides will best enhance the key dish where the the task comes into play. This is actually the best time of the year to visit your local farmers market for some fresh fruits and vegetables. This compels one to become a bit creative with your supper menu. That is what I really like about it!! But I usually find a way!! Here are just a few of vegetable combinations and the best beef.
Whenever I grill steaks…you understand I'm cooking a rib-eye. I love to make melting onions as a side dish. The onions just toss around the coals for about an hour or so, switching them every twenty minutes till soft.
Remove and let cool for several minutes once they are soft. Then, take away slice and the burned coating into four items. Put the onions right into a cast iron skillet with butter, salt plus a splash of raspberry rouge vinegar. Ultimately, return the pan to the grill to further caramelize. They are incredible!!!!
Rib chops are still another one my favourites. Together with the lamb, I grill courgette mushrooms.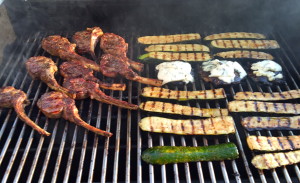 I brush with a combination of of extra virgin olive-oil and balsamic vinegar, and season them with pepper and salt. I best them using blue cheese to get a little something extra when the mushrooms are nearly done!!
I enjoy potatoes that are grilled, they accompany many different types of meats. I always try and discover substantial California russets, slice them span wise about 3/8″ and brush them with olive-oil and balsamic vinegar, then grill. Sometimes I'll sprinkle shredded Parmesan cheese on them!
The Gourmet BBQ System Wok is for making courgette fantastic. Period with salt, olive-oil, and granulated garlic. Sautee for just a couple minutes on high heat then, when they're nearly completed, I'll throw-in certain chopped pecans.
I attempt to grill fish once per week. Trout is my go to; it grills up rather fast. It also takes about the same time frame as asparagus, and that's why this is a fantastic integrating. The asparagus is seasoned by me with olive-oil and salt. It goes great with rice that is wild.
Some of my additional favorite veggies to grill comprise; corn on the cob, carrots, brussels sprouts, eggplant, peppers, and yes…even romaine lettuce!!
Almost!!!!