This is an interpretation of the traditional Beercan Chicken. In the place of beer, we're using cider for the brine. Additionally, this is a kabob and much faster than the original for cooking time. Make sure to make use apples which are fresh, as the result will be better.
Brined Chicken Kabobs
By Matt Jost
Serves: 6 people
Prep-time: 25 minutes
Time: 25-30 minutes
Special Gear:
10" bamboo skewers (Soak for two hours before applying)
Basting brush
Cider chicken kabob, apple, syrup, cinamon, grilled Ingredients cider chicken kabob 2 chicken kabobs on grill 1 Finished chicken kabob 1
Ingredients:
Brine:
3 cups of water
Sugar
3 tablespoons of salt
2 sticks of cinnamon
2 bay leaves
½ tsp chili flakes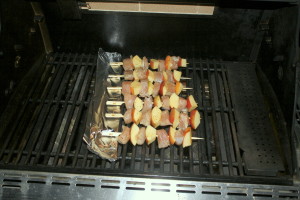 2 cloves of garlic peeled and minced
1 ½ bottles of hard cider (any selection)
1 ½ pound boneless skinless chicken breasts (cut into 1 ounce items)
2 granny smith apples (or any other crisp, firm apples)
2 ounce coconut oil (for cooking)
For Basting:
1 cup pure maple syrup
¼ bottle of hard cider (any selection)
Directions:
Mix garlic, sugar, salt, bay leaf, and the water; simmer the mixture to dissolve the salt and the sugar completely. Cool the brine within an ice-bath once mixed.
Add the cider when the brine has cooled. Brine the poultry for a minimum of a half an hour.
After half an hour, strain, and pat the poultry dry.
Slice the apples in wedges. Cut each wedge into 3 sections to create 1" portions.
Toss oranges and the poultry in the oil to coat throughout.
Skewer chicken and the apples on the skewers, alternating between apple and poultry. Utilize 4 pieces of chicken on each skewer and 4 bits of apple. Sprinkle with fresh ground pepper, if preferred; the chicken skewers are now ready to grill!
Set the grill for direct, medium temperature cooking (about 350F). I love to set a layer of metal foil up along one side of the grill, in a line. This produces a barrier that makes the skewers easier to turn by hand and prevents the skewers from burning.
Grill the poultry for 3-4 minutes a side when the grill has warmed.
Separate the baste into two containers and coat the poultry using the first-half of cider and maple syrup.
When completely cooked check the chicken with an instant-read thermometer, it ought to be about 165F.
Put the 2nd half of the maple baste all of the chicken kabobs to glaze before serving.
Enjoy with your preferred hard cider!
Keep the coals warm!